David McCullagh reviews the new book Pandemonium: Power, Politics and Ireland's Pandemic by Jack Horgan-Jones and Hugh O'Connell,
Stephen Donnelly thinks his constituency rival and predecessor as Health Minister, Simon Harris, briefs against him and criticises him behind his back. Colleagues say that Harris doesn't get on with his party leader, Leo Varadkar, because they are too alike (a claim that would doubtless horrify both men). The Secretary General of the Government, Martin Fraser, has a direct approach that leads to comparisons with Malcolm Tucker (the manic control freak from The Thick of It). Another senior civil servant, Robert Watt, "swears like a sailor".
These insights, and plenty more like them, are of course very entertaining. But do such personal oddities matter?
As it turns out, the answer is yes. Because while personal relationships aren't everything in politics, they do count for a lot. And as the Irish system of government came under unprecedented strain during the pandemic, how people worked together (or, at times, against each other) had very serious implications for the citizens of this country.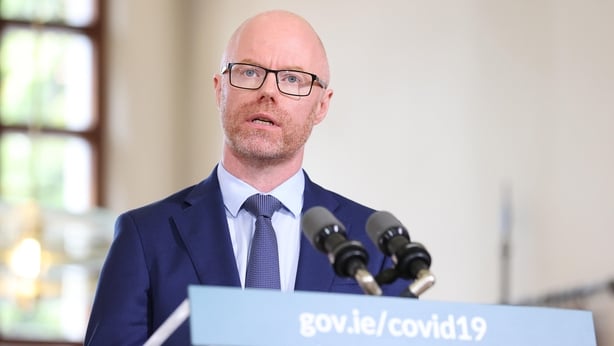 Minister For Health Stephen Donnelly: 'Donnelly comes in for his share of criticism
in this book – perhaps more than his share'.
Authors Jack Horgan-Jones and Hugh O'Connell, political journalists with the Irish Times and the Irish Independent respectively, make full use of documents as well as interviews with many of the key participants (on and off the record) to build a compelling picture of how the State responded to the Covid pandemic. As the subtitle suggests, it concentrates very much on the politics of the crisis, and on how power was used to deal with – the power of politicians, of course, but also of officials.
And no official had more power than the Chief Medical Officer, Dr Tony Holohan.
Some members of NPHET told the authors that Holohan was "autocratic" or even "dictatorial"; a political source described him as "intolerant of alternative views". Holohan was most put out when Health Minister Simon Harris turned up at an early meeting of NPHET. The CMO took the view that officials speak more freely at meetings in the absence of politicians. The Minister was allowed to address the meeting in front of TV cameras – but had to leave before the real business began.
This sounds like an official arrogating power to himself, but a more nuanced view of Holohan's style emerges here. He wanted consensus to emerge from NPHET, as that would make its views carry more weight. To that end, he would contact members before key decisions, to sound them out – or to persuade them of his view. Other voices were heard at meetings, but there was no doubt whose voice really counted. As the book records of one NPHET discussion, "consensus was once again reached around the viewpoint Holohan had when he entered the meeting."
We need your consent to load this YouTube contentWe use YouTube to manage extra content that can set cookies on your device and collect data about your activity. Please review their details and accept them to load the content.Manage Preferences
Watch: May 2020 – Taoiseach Leo Varadkar on Government's handling of COVID-19
It is only fair to point out, as Leo Varadkar does here, that "it was essentially Tony who decided who was on NPHET". When the Government eventually succeeded in having some extra members appointed, they were regarded as "fifth columnists" by some of their colleagues.
The concern that NPHET, and particularly Holohan, had too much power, wasn't just felt by politicians. In February 2021, Trinity College's Covid-19 Law and Human Rights Observatory said there was a risk that so much weight was given to NPHET's advice "that the advice becomes the decision". On the other hand, given public trust in scientific advice, and distrust of politicians, there is an argument that there were advantages to the approach taken by the CMO. As the authors note, "Holohan was utterly convinced of his own analysis at a time when a frightened population was looking for someone authoritative."
Nor did NPHET's dominance go down well with the HSE, which had to accept that while it was the engine, NPHET had the power. Some in NPHET thought HSE Chief Paul Reid's lack of a medical background was a disadvantage, and disparaged his tendency to "speak in generalities… to avoid being pinned down". He and Holohan did not get on – Reid drily told the authors "We probably wouldn't be seen going for pints, put it that way." But at the same time HSE insiders said Reid's "steeliness" helped galvanise the organisation.
The early scramble for Personal Protective Equipment (PPE) is well recounted, with the point well made that "Ireland was going to take whatever it could lay its hands on. There was zero opportunity to haggle." Pre-Covid, an N2 face mask cost 69 cent; at one point, the HSE was paying €11.20 – a 16-fold increase.
But aid could come from unlikely sources. Bono had offered to help, and the U2 frontman happened to know an Irish entrepreneur in China, Liam Casey, who knew his way around the system and could put the HSE in touch with reliable suppliers. When NPHET suddenly announced that all healthcare workers would have to wear surgical masks in health settings, the HSE – without warning – had to find 1.2 million masks a day, a fivefold increase on its existing usage. Bono and Casey came to the rescue with new supplies from China.
And it wasn't just masks and PPE. The HSE suddenly had to find body bags, and refrigerated storage units to act as temporary morgues. Thankfully, they weren't required, but the possible need for them highlights how close the entire health system came to catastrophe.
Mistakes were undoubtedly made – the focus on clearing hospital beds to cater for the expected surge led to untested elderly patients being sent to nursing homes. Covid would have got into nursing homes even without these discharges, but they certainly added to the problem. And at one point Holohan ordered nursing homes to withdraw a ban on visits – before officially suspending visits just days later.
The refusal to give priority to the use of masks in public spaces was also a mistake. Holohan took the view that they could give users a false sense of security. In this account, incoming Taoiseach Micheál Martin took a hard line on masks – prompted in part by his sister-in-law, who lives in Singapore. Shortly after he quizzed Holohan on it, NPHET recommended mandatory masking in retail and other indoor settings.
Holohan – and others on NPHET – were strongly opposed to antigen testing, because they thought symptomatic people would use a negative test as a "green light" to carry on mixing with others. The new Minister for Health, Stephen Donnelly was an enthusiast, but he was up against a pro. One HSE source told the authors that the row over antigen testing was "really a proxy for a struggle for power between a minister who was struggling to get purchase versus someone who understood how to exercise the maximum power from the weakest position".
Donnelly comes in for his share of criticism in this book – perhaps more than his share. Paul Reid of the HSE told the authors that the new Minister raised issues, as would be expected, but that "there was a style about how he went about that at first" which "could have been perceived as being a little dismissive, not respectful, that would have got my team riled up quite a bit…"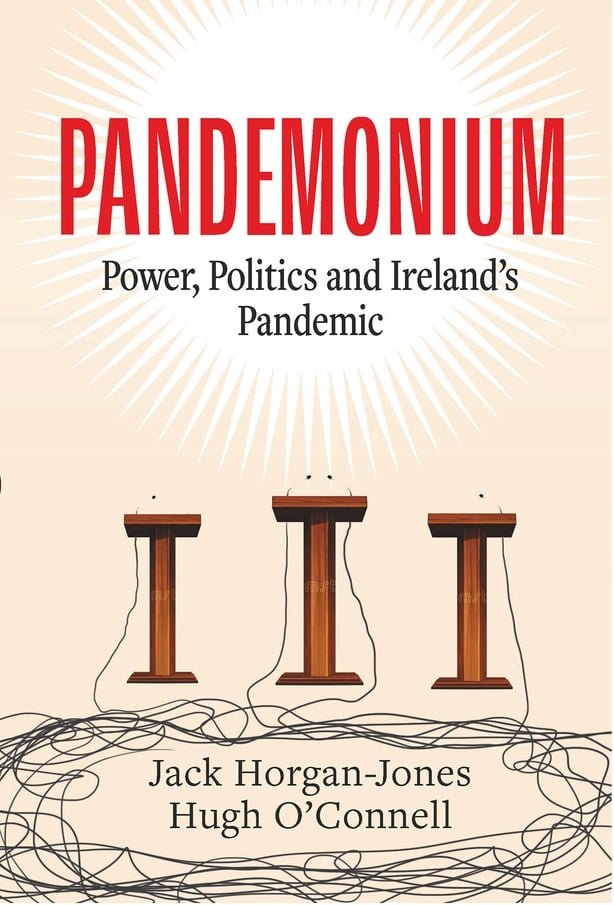 Though not directly attributed, even more stringent criticism comes from those around Holohan, who are reported as feeling that their advice was not "being supported or represented well by the health minister… Holohan came to the conclusion, which he shared with others on NPHET, that his advice was not safe in the hands of the health minister."
In fairness to Donnelly, he was clearly and understandably under pressure – after becoming Minister, he would go running in the middle of the night to deal with the stress. His colleagues could see how much pressure he was under, but don't appear to have done much to help. Donnelly tried to avoid taking responsibility for the hotel quarantine scheme, believing that Health had enough on its plate already. But because the legislation gave the Minister for Health – and only the Minister for Health – power to make regulations, he got landed with it. This overloading of tasks on one Department, and one Minister, is surely a lesson for the next crisis.
Donnelly was blamed by some for contributing to the greatest crisis in relations between Government and NPHET, when Holohan returned to work at the start of October 2020, after several months leave due to his wife's illness. The previous Thursday, NPHET, chaired by Holohan's deputy, Ronan Glynn, had recommended staying at Level 2 restrictions. But Holohan insisted that this would not be enough, and persuaded NPHET to change their advice, and to recommend an immediate return to Level 5.
Ministers felt completely blindsided. Micheál Martin was "annoyed… No one has satisfactorily explained to me how a body that's multidisciplinary arrives at a conclusion on a Thursday and then arrives at a very dramatically different escalation on the Sunday." Paschal Donohoe said he "absolutely hit the roof"; Michael McGrath was "shocked… we weren't ready for it."
Senior ministers confronted Holohan, Glynn and Phillip Nolan the following day in Government Buildings, in what one participant described as "the ugliest meeting I've ever been in – and I've been in some ugly meetings". The NPHET team were subjected to "an unbelievable level of bollocking".
Ministers rejected NPHET's advice, deciding on Level 3 instead. To compound matters, Tánaiste Leo Varadkar was severely critical of NPHET in an appearance on RTÉ's Claire Byrne Live, including the cutting observation that none of them would be out of work in the morning as a result of their own advice.
'We didn't feel #NPHET proposal had been thought through' – Tánaiste Leo Varadkar #cblive pic.twitter.com/z8YhvYgFPS
— Claire Byrne Live (@ClaireByrneLive) October 5, 2020
Some wondered if Holohan would resign; according to the authors, he never even considered it, though they say he was concerned that his wife "in the circumstances she was in with her cancer diagnosis, had to witness such an unprecedented attack by the deputy leader of the country on a group of civil servants led by her husband."
Holohan had handled the sudden change in advice badly – though rising Covid figures would very quickly suggest that advice had been correct, and the Government had to agree to Level 5 a fortnight later. Equally, the Tánaiste had gone too far in his public criticism.
Relations soured further over what the Government trumpeted as the "meaningful Christmas" of 2020, when a relaxation of restrictions was followed by another wave of disease. The Government blamed NPHET, and vice versa; as the interviews conducted for this book demonstrate, they are still at it. There are arguments to be had on either side. While, as the politicians argue, the emergence of the Alpha variant contributed greatly to a sudden surge of cases which came very, very close to overwhelming the health service, Holohan is still of the view that even without Alpha there would have been a very serious situation given the increased socialisation over Christmas. While the politicians still defend their decisions, after the surge of cases post-Christmas the reality was that they had little or no scope to ignore NPHET advice in future.
There was a constant problem with leaks, particularly of NPHET advice that was about to arrive with Government. NPHET and the Government blamed each other; on this account, both were responsible. Holohan felt the leaks were damaging NPEHT, and concluded that while Government criticism of NPHET leaking was unfair, there was at least one culprit on the team. In an attempt to smoke out the mole, Holohan put up a slide of recommendations, including one that would not be passed on to government (relating to decreasing capacity on public transport), and see if it got leaked. It did – reported by John Lee of the Daily Mail – proving that NPHET was leaky. But, at the same time, government sources had already briefed other political correspondents to prepare the ground for likely NPHET recommendations: as the authors say, both sides of the relationship were leaky.
In conclusion, the authors point out that the politicians made mistakes – in rejecting Level 5 in October 2020, then in opening up more than advised in December, and delaying the post-Christmas return to lockdown. But at the same time, NPHET's advice was "far from infallible and a pattern of medical paternalism emerged in its attitude towards face coverings and antigen testing in particular".
Looking at figures for deaths per million people, Ireland suffered 1,284, compared to 2,214 in the EU, 2,348 in the UK, and 2,806 in the US. Lockdowns are, as the authors argue, "impossibly brutal", but those figures tell their own story. In the end, the system, ad-hoc as it was, and dominated as it was by personality clashes, rivalries and power grabs, did actually work.
Even in the unlikely event that we never face another global pandemic, we most certainly will have to face another crisis, and it would worthwhile for our politicians and our public officials to prepare themselves for whatever comes next. This book is an excellent place to start.
Pandemonium: Power, Politics and Ireland's Pandemic by Jack Horgan-Jones and Hugh O'Connell is published by Gill